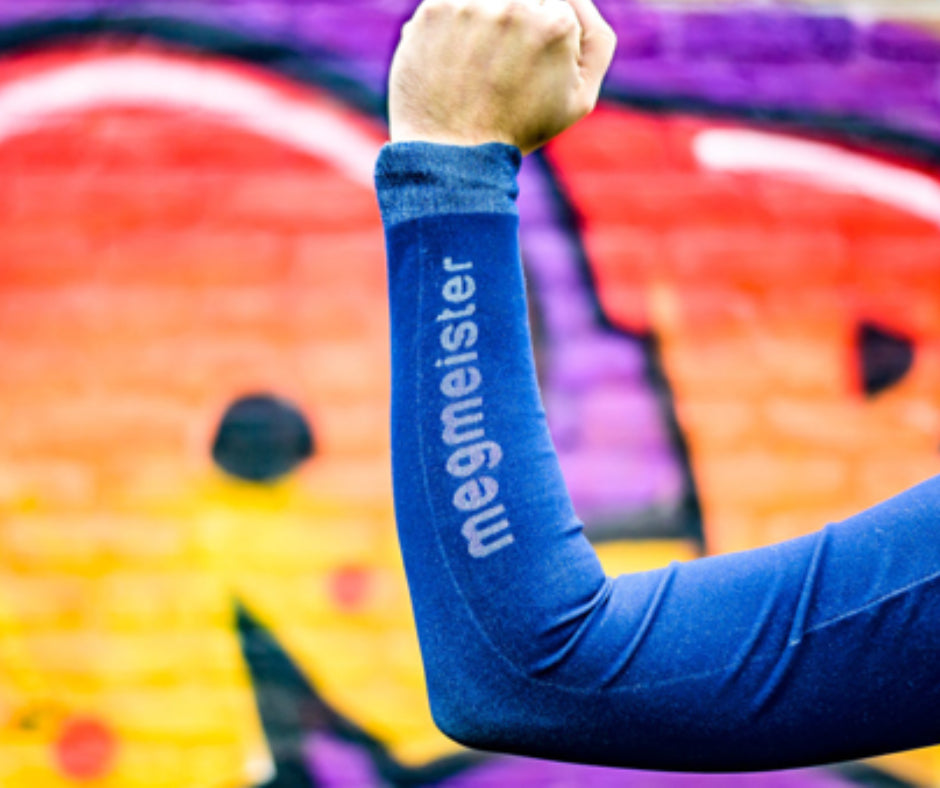 Wielerflits Review of Drynamo Baselayer - By Martin Van Den Bosch
3 Min Read
Cycling outdoors in the winter means: protecting yourself well against the cold, rain and wind that you may encounter on the way. Arming against the elements starts with the clothing directly on your skin, such as the undershirt (also called base layer ). We were asked by Megmeister if we wanted to test the Drynamo Base Layer. A relatively unknown brand with a clear philosophy: we wanted to know more about that.

What's in a name
The name Megmeister will not immediately lead to recognition by most readers. It sounds German, but it is not. Megmeister is the brand of Jos Ruiterman, a Dutchman living in Great Britain who has extensive experience in product development at major sports brands. Convinced that there is still a lot to improve on cycling clothing, he used his knowledge and experience for his own clothing brand. Among other things, it has resulted in this Drynamo Base Layer, which we have tested in recent weeks. For the name of his brand, Ruiterman was inspired by the English word for a panna in football: a 'nutmeg'. This is also reflected in the logo.

At first glance at this navy blue shirt, the finish immediately stands out. The collar and the ends of the long sleeves seem unfinished at first glance. The fabric is cut, but a collar is missing. Inquiry shows us that this has been deliberately chosen to increase comfort. No cuff with seams that can irritate the skin. Functionality above looks . For an undershirt a great choice in my opinion.

Seamless
The necessary attention has also been paid to the material. After a long search, Megmeister came up with a material that breathes better than polyester, nylon or (merino) wool. In addition, in contrast to other undershirts, a different composition is used for the inside and the outside. This ensures that the perspiration moisture is pressed to the outside of the shirt and, after sitting still for a coffee break, you will no longer get cold because your shirt is wet on the inside.
What is also striking is that there is not a single seam on the entire shirt. Although the shirt made in Italy has different structures, it is made in one piece. No needle and thread were used in the production. This is also done with the idea of increasing comfort and freedom of movement.
To ensure optimal ventilation, there is also a breathable mesh under the armpits and on the back. The shirt has long sleeves and the back is slightly longer, to ensure that everything is covered when you lean forward over you.

First impression
To be honest, I have a bit of a love-hate relationship with baselayers. When looking for a shirt that scores well on all properties, I have already worn out the necessary brands. An undershirt that isn't quite your-of-it can really spoil the fun. One is too hot or too cold, the other is uncomfortable or has difficulty absorbing or expelling the sweat. I was therefore very curious how this Megmeiser would like.

One of my doubts was whether this feather-light undershirt would keep me warm enough on the road. The packaging promises that the shirt is sufficient at temperatures from -15 to +15 degrees Celsius. Now we have not had a very severe winter in the Netherlands, but some protection is not an unnecessary luxury at this time of the year.

The Megmeister has positively surprised me in this. In my rides over the past few weeks (usually between 2 and 5 ℃) I only wore a winter jacket over the shirt. That turned out to be more than enough to stay warm. The time I put on a cycling jersey over the base layer, I personally thought it was just a bit too hot. Actually, the base layer performed in a way you would expect from an undershirt. My body heat was fine, the fit did not hinder or annoy my movements on the bike.

What I particularly like about this shirt is that you can wear it for a while after your ride without any problems. Where you often have a wet undershirt in no time after cooling down, this shirt continues to feel dry. Both on the inside and the outside.
As far as I can judge after a few weeks, the shirt also survives well in the wash. Even after a few washes, there is no loss of quality in shape or color. I was concerned that the unfinished edges would fray, but luckily that is not the case. This is a shirt that you can use for a while.

Conclusion
The Megmeister Drynamo Base Layer has surprised me positively. The shirt does what it promises: a comfortable shirt with which you can continue cycling outside in winter conditions. As far as the finish is concerned, it may not be the most beautiful shirt, but that is of secondary importance with a base layer.Small side note is that the shirt is somewhat spicy at the price. The shirt can be ordered online for 69.95 euros, which means it is also in the top segment in terms of price. If it fits your budget and you are looking for a top shirt, we can certainly recommend this base layer.
In addition to the blue version that we have tested, there is also a white and black version.
WELCOME TO THE MEGMEISTER COMMUNITY
Every cyclist has a story. Join ours. Share yours: