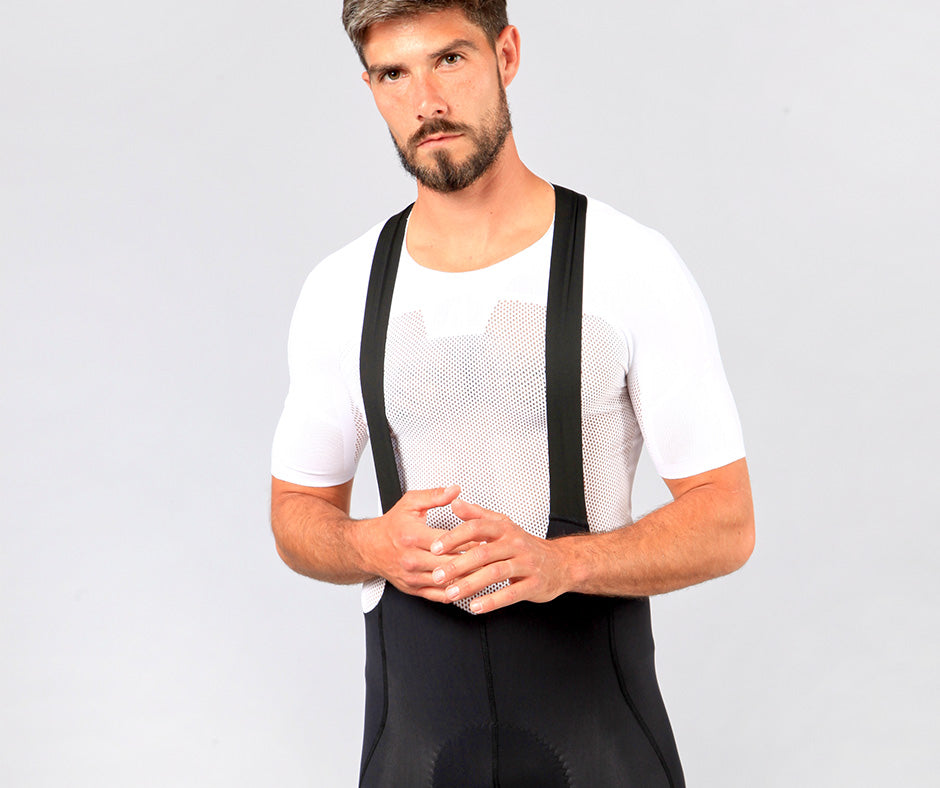 Megmeister Winter Cycling Tips
3 Min Read
Here at Megmeister, we have compiled a little guide to looking after yourself in the saddle when the autumn/winter wet and cold arrives...
Swerve The Gutters!
Without fail, once the weather gets worse, all the roadside gutters get clogged with piles of leaves, mud and frozen slurry. So do yourself a favour and stay well away - just cycle a bit further away from the side of the road than you normally do. After all, better that motorists are slightly inconvenienced by having to steer around you than you potentially slipping and sliding into their path. Most drivers accept that in winter conditions cyclists need to be just as cautious as they are.
Shine A Light
Whatever you do, don't scrimp when it comes to investing in your bike lights for winter. Make sure you get the best, most reliable and brightest you can find for your budget. Winter days can be really dark, and dark mornings and early nights mean even the commute can be in complete darkness. Remember, you'll most be cycling on as many unlit roads as lit ones and you really need to ensure you can be seen clearly at all times. Power-wise it's worth remembering that some batteries such as Lithium don't perform well in cold weather, so maybe invest in a set of back up lights as well as ensuring you have either spare batteries with you or your lights are fully charged before you set out.
For extra protection, ensure all your clothing has a reflective element, like all the Megmeister A/W ranges where we have high visibility branding and material bands in key areas of visibility.


Make Sure Your Body Is Fully Fuelled
Cold, wet, winter days really take it out of your body, and you will doubtless burn more calories in the saddle than you usually would, as your body needs extra fuel to keep your core warm as well as your wheels turning. It's always a good idea to pack some snacks with you and with all the pockets featured on the new Megmeister Autumn/Winter product collection, there's no excuse for not having fuel with you. Think bananas, protein bars, cake, and glucose sweets. If it's really cold, just make sure you don't carry along snacks that might freeze! An inside pocket might be best in really cold conditions. But it's not just about the calories, as ever, in the saddle you need to make sure you keep hydrated throughout your ride.
Choose Layers
Layering your clothing when cycling in winter means you have lots of options to help regulate your warmth, comfort and sweat levels. Megmeister's AW 21 clothing collection has been designed to be layered together from base layer, to jersey, to bib shorts, to jacket or gilet. Our wicking and venting technologies effectively pull sweat away from the body whilst keeping our thermal technologies (including all-important merino), ensure the cyclist's temperature is comfortably regulated. Remember that if you don't layer and you don't invest in the right winter clothing, sweat might accumulate. In really cold temperatures this can actually freeze. Also consider the windproof and waterproof qualities of your garments as wind and rain, if they ingress, can make cycling particularly difficult and unenjoyable.
Properly Prep Your Bike
It's not just you, you need to consider when it comes to autumn and winter cycling. Consider your poor bike as well! There are some simple maintenance checks and tasks you can undertake to ensure your bike is winter weather fit. Firstly, look at cleaning and lubricating your drivetrain including the chain, chain set, cassette and front and rear derailleurs. Ideally, you should do this after every ride – particularly if you have got caught behind the road gritting lorries as the salt they distribute will play havoc with all your bike parts. Also remember to clean your bike down after each ride so damaging mud, grit and salt don't take a hold. It's best to use a synthetic winter lubricant and you should also treat any exposed steel with anti-rust spray. All your cables should be well-sealed as you don't want brake cables seizing up in the ice.

How Megmeister Plans To Keep You Cosy This Year!
Good news for all you cyclists anticipating the Big Chill, is that here at Megmeister we're the 'Meisters' of thermal baselayers and have 2021 ISPO Award to prove it!

Check out our amazing L8 WINTER THERMOROUBAIX BIB TIGHT for both men and women. These bib tights are packed with innovative fabric technology, to keep you dry and warm all ride long and, in addition, we have ensured our fit provides maximum freedom of movement, support and comfort, whilst delivering excellent efficient aerodynamics.

Jersey-wise there's our range of men's and women's THERMAL WINTER JERSEYS with renowned M.I.T.I ThermoRoubaix fabric. The handy 3 rear pockets even have covers to keep rain at bay, whilst highly reflective branding helps keep you spotted and safe.

The Megmeister 4 SEASONS WINTER JACKET is a tech masterpiece that has been designed with hard-wearing high-performance fabric and features a raft of technical features. An advanced outer membrane combines with a luxury merino lining, whilst the jacket is water repellent, thermal and windproof. Comes complete with handy, secure zippered side pockets.

Last but not least is the Megmeister HYBRID WIND VEST for men and women. Super lightweight, at an incredible 100g it packs away easily into your jersey's back pockets. But it also has enhanced wind proof capabilities and is water repellent and breathable. Told you we'd look after you!



WELCOME TO THE MEGMEISTER COMMUNITY
Every cyclist has a story. Join ours. Share yours: